On May 3rd, 2022, senior decision makers from private equity, financial institutions, advisory firms and holding companies gathered at the Hotel Principe di Savoia in Milan to discuss industry trends and exchange opinions.
The keynote address was given by Anna Gervasoni, Chief Executive, AIFI (Italian Private Equity, Venture Capital and Private Debt Association). Ms. Gervasoni described the current PE sector in detail, with incoming funds from foreign and domestic LPs, and from newcomers such as pension funds, insurance companies, family offices, wealth management, and retail banks.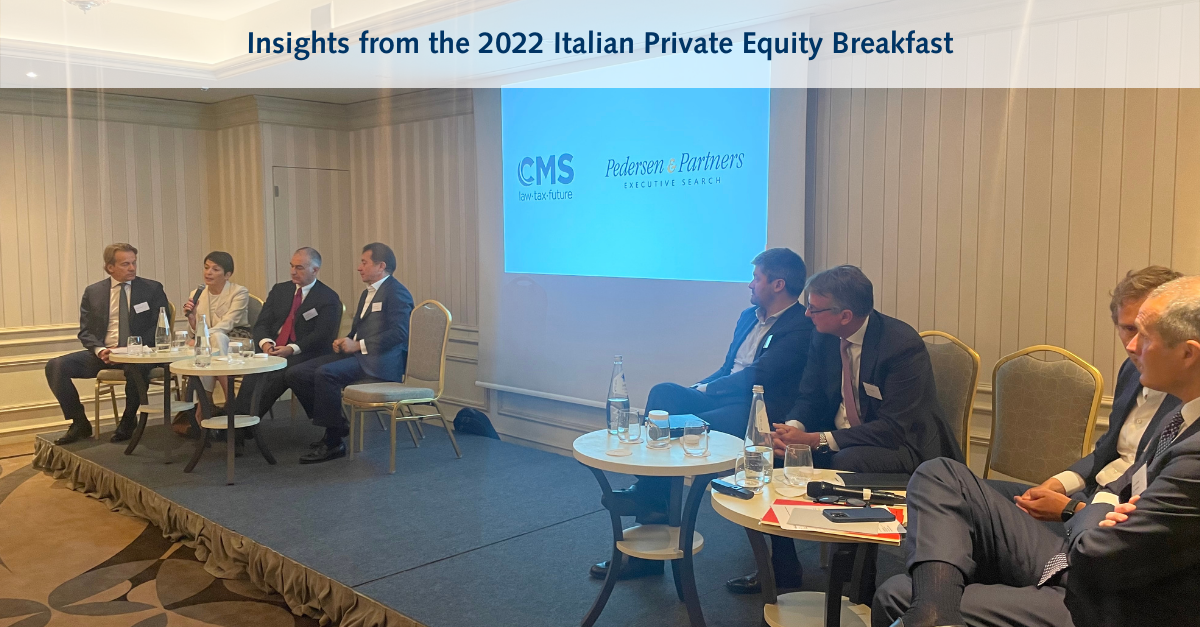 The panel was moderated by Paolo Scarduelli CMS Partners and introduced by Duncan Weston, CMS Executive Partner and Poul Pedersen, Executive Chairman of Pedersen & Partners. Contributors included:
Arabella Caporello – Partner, L Catterton Europe
Gianpaolo Di Dio – Chief Investment Officer, Senior Partner, Fondo Italiano d'Investimento
Raffaele Legnani – Managing Director, H.I.G. European Capital Partners
Guido Lorenzi – Partner, QuattroR
Marco Samaja – Managing Director, Lazard
Constantin Terzago – Managing Director, Mutares
Massimo Trentino – Partner, CMS.
Bruno Pastore, Client Partner & Country Manager for Italy at Pedersen & Partners summarised the key takeaways from the lively debate as follows:
The M&A market registered record numbers in 2021, although 2022 and beyond could see a slowdown with less IPO and more PE-secondary.
Small is no longer beautiful. "Buy & Build" is now the way to create value, and to improve the image of PE in the eyes of entrepreneurs – as partners rather than vulture funds.
A new Private Equity way forward is to invest in companies with financial stress and high debts, as a sort of de-leverage MBO.
Holding companies are investing in distressed companies and creating value through "ad-hoc" interventions.
The paramount importance of the human factor and the need for correct management assessment – where possible, this should happen before the investment, not after it.
New normative requirements will influence due diligence and target company management.
A more institutional approach is needed for "Buy & Build" value creation and compliance to ESG.
Despite many uncertain external factors such as the war in Ukraine, CV19, supply chain issues, inflation and a recent slowdown in deals, the entire panel had an optimistic outlook for 2022 and beyond.